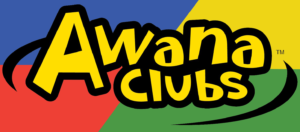 Wednesdays, 6:30-8 pm, during the school year (beginning August 16, 2023) (The east side sanctuary doors will open at 6:15 pm for parents to begin signing in their kids.)
QUESTIONS? Contact Leah Sadler: fbcleah@msn.com
General Information
The Awana Clubs at FBC is part of our effort to continually reach kids for Christ and train them to be intentional, maturing, serv-ants of Jesus Christ. We have a great time learning Biblical principles, memorizing God's Word, and playing hard in our games to learn great sportsmanship and how to work with others.
We also get to have some crazy times of dressing up as Bible characters, fixing our hair funny, competing in mission projects, and just plain being silly. All these activities are in an effort to ensure your child has a great time discovering the wonderful Truth of God's Word and allow them opportunities to grow spiritually, mentally, emotionally and socially.
For more information contact Leah Sadler at fbcleah@msn.com
Registration Information
All children who participate in the AWANA ministry at First Baptist Church MUST have a completed registration form (online only) and filed with the AWANA Club Director.
2023-24 Registration Fees:
Through the generous support of the members of First Baptist Church, there is no registration fee for our clubbers.
Each clubber will need a uniform or a vest: Cubbies vest $16 Sparks vest $16 T&T uniform $16
The first handbook is provided. Replacement handbooks are $16.00 each. To attend Awana club you must have a handbook.
Please do not let finances stand in the way of your child participating in Awana. If there is a financial need, please let your child's Awana leader or the Awana Commander know and we will work with you so your child may continue to participate in our Awana ministry.
Additional Information
For additional information please refer to the FBC Awana Club Manual.
"Do your best to present yourself to God as one approved, a worker who has no need to be ashamed, rightly handling the word of truth." 2 Timothy 2:15
WHAT WE EXPECT FROM PARENTS
• Always encourage your child. Children have much more fun when Mom and Dad show interest in their accomplishments.
• Help children to attend AWANA every week and to arrive on time (Club begins at 6:30 pm). Consistency builds friendships, achievement, and self discipline.
• During the week, help your child prepare at least two to three sections. This is will ensure they will complete their handbook and will receive their special awards, plus they will qualify for other AWANA activities.
• Attend all major events. Parents are always welcome and are encouraged to attend special events as a way of showing your sup-port and approval for your child's accomplishments.
Please review the discipline guidelines found in the FBC Club Manual with your child. AWANA has very few rules of behavior, but in order to insure that all clubbers have an op-portunity to learn as well as have fun, some rules of behavior will be enforced.
WHAT WE EXPECT FROM CLUBBERS
• We expect clubbers to follow club guidelines and observe the 3 and 5 count.
• We expect clubbers to arrive at AWANA ready to participate in their uniforms.
• We expect clubbers to exhibit Christ-like behavior and be kind to others.
• We expect clubbers to participate fully in the program.
We expect clubbers to have FUN!
WHAT TO BRING TO AWANA
• Your child should wear their designated uniform and comfortable shoes for running and playing, and bring their Bible and Awana Handbook.
• Your child should not bring other items with them. If your child does bring something which does not pertain to Awana with them and a leader sees it, your child will be asked to put it away and keep it out of sight. If a leader sees the item again, the lead-er will confiscate the item until then end of the Awana club night.
There will be some nights where a special theme is being used and your child will be asked to bring a certain item(s). When this is the case, your child will bring information home with them that will have basic information about what they should bring. Theme night in-formation is included in the Club Manual as well as on the calendar page.
SECURITY
All clubbers MUST sign in at the check-in desk when arriving at AWANA. The child will be given a wristband. At the end of the Awana night, the parent must return to sign out their child. Please remember that only those listed on the child's registration form will be allowed to sign that child out. NO EXECPTIONS. We will notify parents when a child is sick, fussy and not adjusting to the Awana night, or in rare instances for disciplinary reasons. Children in Cubbies and Sparks MUST be picked up by their parent at the conclu-sion of the evening. No Awana child will be permitted in the hallways without leader supervision or permission.
DRESS CODE
• Children and youth attending Awana should wear comfortable clothing and "tennis" shoes in order to participate in the activities held on a typical evening. Some activities may be difficult to participate in wearing skirts, heels, flip-flops, sandals, dress shoes, etc.
• Clubbers and leaders are expected to wear their AWANA uniform to each club meeting. The goal of each AWANA Club is to have 100% of its attendees in uniform. A properly worn uniform helps AWANA clubbers and leaders earn respect and credibility.
• Periodic uniform inspections will be performed by Club Directors. For a personal inspection of your uniform, apply this standard: Does it appear neat and disciplined? The Club Directors will carefully examine clubbers' uniforms and award Uniform Inspection Awards to clubbers appropriately attired.
• Clubbers not in uniform will not be issued awards during the weekly award ceremonies.